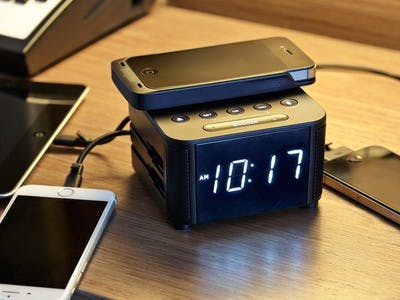 Hotels can now purchase the Kube Audio Clock and Kube 5 Portable through their preferred hospitality reseller as a result of the new Almo/Kube distribution relationship
[Jericho, NY, and Philadelphia—January 25, 2017] — Kube Systems today named Almo Professional A/V, North America's largest audio visual distributor, master distributor for all Kube Systems' charging solutions in the United States, with expanded distribution into the Caribbean and Latin America.
As a result of this partnership, hotels can now purchase Kube products directly through their preferred hospitality reseller. At the same time, Almo reseller partners can expand their business with new and existing hospitality clients to enhance the guest experience and drive satisfaction rates with Kube charging solutions, including the Kube Audio Clock for guestrooms and the Kube 5 Portable for common areas.
"With Kube Systems now as an Almo brand, we will be able to get our in-demand charging solutions to hotels more quickly across the globe," said Dave Weinstein, Kube Systems Vice President. "Almo is elevating the hospitality guest experience by expanding its reach beyond standard AV products to include all guest-facing technologies like our mobile-device charging solutions. We are thrilled to be an Almo partner and anticipate distribution of our products to skyrocket in the coming years."
"Mobile charging solutions for guestrooms and public areas are critical in today's mobile landscape as these devices have become second nature to vacationers and road warriors alike," said Stephen McKay, vice president, specialty markets, Almo Professional A/V. "Then take into consideration how Millennials are using mobile devices today for guest check-in, live entertainment and more. The reality of having guests with drained batteries, forgotten or misplaced charging cables and/or adapters requires hoteliers to provide charging solutions as an integral part of their guest satisfaction strategy.
"Hoteliers can add to the overall guest experience, drive loyalty and positively impact online reviews by providing the ultimate in clock radio/charging solutions from Kube Systems," McKay added. "They can procure them through their preferred hospitality reseller or hospitality TV solutions provider as a result of the new Almo/Kube distribution relationship. Resellers can also leverage Almo's extensive capabilities in staging and logistics without the hassle of having to manage inventory or deal with third-party freight companies."
As a third-generation, family-owned distributor recently celebrating 70 years in business, Almo has grown to more than $1 billion in revenue and is the largest professional audio visual, consumer electronics and specialty appliance distributor in the U.S. with a global presence in the Caribbean and Latin America. Almo's winning strategy is deeply-founded with people as its key differentiator by creating meaningful partnerships that bring as much value to its manufacturers as to its reseller and integrator partners to help drive expanded opportunities and create mutual growth.
- ### -
About Kube Systems Kube Systems (kubesystems.com.com) designs, manufactures and markets unique technology solutions focused on the hospitality industry. Its solutions blend innovation with intuitive technology to enhance the guest experience. The Kube Systems suite of products combine the convenience of multi-device charging with portability, streaming audio playback and time keeping. Kube Systems is owned by Ramer International. With over 65 years' experience, Ramler International is renowned for its leading hospitality furniture of original and contemporary design. More information is available at ramler.com.
About Almo Professional A/V Almo Professional A/V is the nation's largest professional audio visual distributor with forward-thinking product integration, training and education, managed services, and technical support capabilities. With highly skilled sales and business development manager teams, reseller education programs, distribution centers across the U.S. and carefully chosen product lines for the Pro A/V channel, Almo Professional A/V provides customers with the full distribution experience on a local and a personal level. Almo Professional A/V is a division of Almo Corp., the nation's leading independent distributor of consumer electronics and major appliances. For more information about Almo Professional A/V, please call 888-420-2566 or go to www.almoproav.com. Almo Professional A/V can also be followed on Twitter at http://twitter.com/almoproav and on Facebook at www.facebook.com/almoproav.